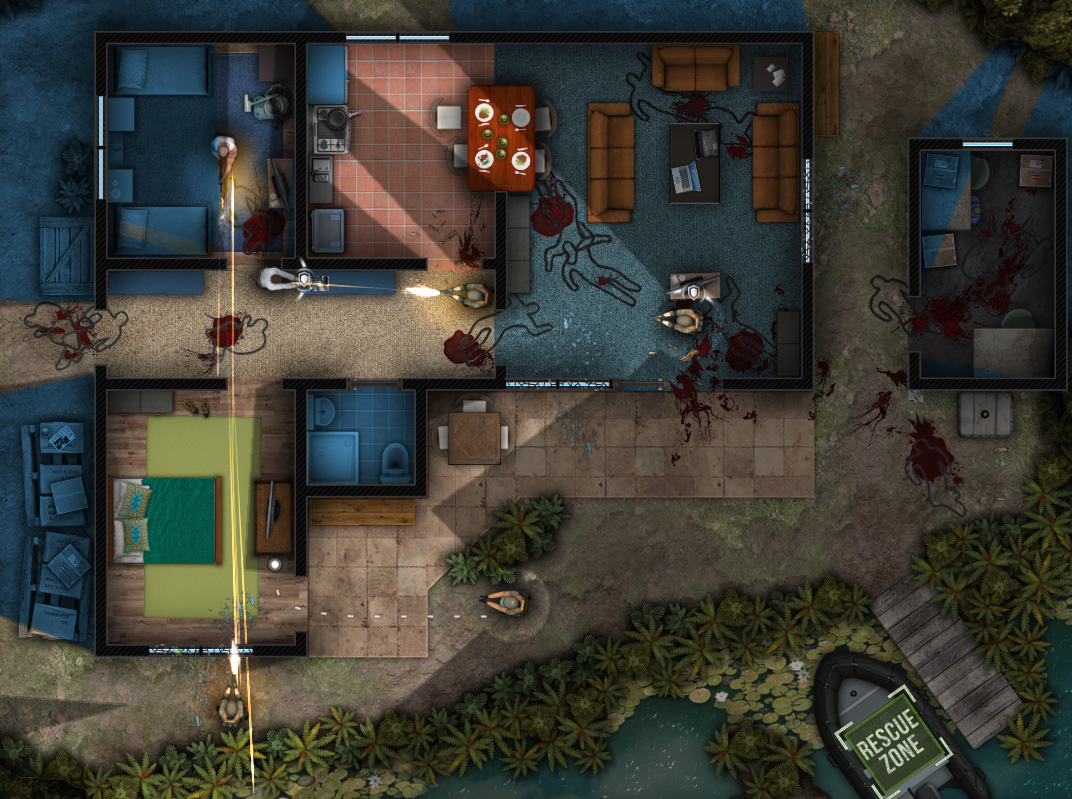 Hello again!
Alpha 9 is upon us! But fear not, we've got our body armor on! Get it

?
Download, as usual, via the download link you received during purchase. Or just use your steam key you got from us. Yes, we still get emails from people that didn't know a steam key got lost in their spam filter, nothing to be ashamed of.
We've had so much good stuff built lately that we just had to let it out. But there are two main changes you will see. The first one, which affects the entire game, is that your troopers now wear body armor. Really, check it out in the equip menu – you even get a few choices on armor type!
SWAT being SWAT and rules being rules, you always wear your rifle plates, front and back. Take a round of AK47 in the plate, no problem, if you're that lucky. But if you want more protection, you can get that, and pay the price in encumbrance. Just remember, no armor is impenetrable, nor it offer 100% protection.
Speaking of protection, shields are a much more complex business right now, with 5 models available for your use. The first 3 are handy against the pistol caliber threats, Mac10 bad guys and so, but Kalashnikovs pierce right through. Choose the latter shields for protection against Rifle Threats, but don't expect the same amount of coverage as weight would just be too much!
We still have the armor a little too powerful, with blunt trauma from non-penetrating shots not factored in. Will be fixed.
The 2nd main change to the game is we've put some Less Lethal stuff in. What do you get:
Stinger grenades – use them to scatter people but do it with caution as accidents do happen!
Tazers - Equip them and you can stun bad guys or runaway suspects. Tazing gives you a couple of seconds to handcuff the subject, its not a fire and forget option.
Arrest Warrant mode! A new scenario type, look for the old distinguished gentleman wearing a a suit. And once you find him, arrest him. Pretty simple right? If you can catch him…
Soon you'll have more Less Lethal stuff as well as bad guys surrendering when overpowered, but for now we only have the VIP doing so.
What is New and Important in Alpha 9 of Door Kickers:
——————————————————————————————–
Features:
- New scenario type: Arrest Warrant.
- Body Armor added to the game. Select it from the inventory menu.
- Stinger Less-Lethal grenades added
- Tazer Less Lethal gun
- New shield models + improved shield mechanics
- 1/2 playback speed option for viewing replays
- New trooper skins + better animations
- Graphics improvements
- Improvements to enemy/swat AI
Fixes:
- Troopers now properly remember the weapon they had in hand before breaching a door.
- Fixed some issues with snipers
- Fixed unable to breach with shotgun as secondary weapon when activating potential waypoint
- Trooper stats are no longer updated and XP is no longer reset when viewing replays
- Fixed invisible walls on very large screen resolutions
- Fixed immortal troopers
- Sniper bullets ignore cover now
Have fun, wear your plates, and don't forget to hit the feedback button

Your DevTeam @ KillHouse Games
Read More
Alpha 7/8:
Honest Game Reviews Q&A with us
PCGamesN: "Verdict: Buy"
Overlord Gaming reviews Alpha8
Not exactly a review, but pretty damn cool!
Alpha4:
Alpha 2 and 3:
Total Biscuit, The Cynical Brit Video Preview 
Indie Statik: "It's probably the best man-shootery game I've played in years"
PCGamer: "If you're a fan of the SWAT games, Rainbow Six, Frozen Synapse … then you've probably got Door Kickers pencilled in your diary, perhaps even accompanied by a couple of exclamation marks"
Alpha1:
Read More
Hello, Troopers!
It's time for the arrival of SWAT snipers and Shield Troopers, all part of Alpha 8.
(You can download it using the link you received during purchase or by using your Steam key)
Alpha 8 completes the class system in Door Kickers, with all 5 classes being available for use. Each brings a different approach to the tactical picture and its up to you to decide how to mix them.
Pointman – fast movement and first to shoot, an excellent choice for first man through the door. Unless its a trap, in which case its better to send in the …

Shield – Excellent protection from the front but poor accuracy and rate of fire. Needs his flanks protected and can't breach doors.

Assaulter – Excellent firepower at medium to long ranges but may have trouble in tight corners and when handling doors.

Breacher – Quickly brings doors down when noise is not an issue, and packs quite a lot of close-range firepower.

Stealth – Silent and deadly but vulnerable at long range.
Its not by accident that snipers are not mentioned in this list as they are an off map asset. They don't deduce from your manpower and you have limited control over them.
 Speaking of Shields, enjoy them in the current invulnerable form while you can

–  as the armor system is implemented you will see most shields (note: plural) succumb to rifle fire.
Alpha 8 also brings a little bit of trooper evolution – they will get XP and rise through ranks. While we work on the perks that will be unlocked by this evolution, we'd like to hear from you how far you manage to get your troopers before they die!
Since Alpha 7 we have seen a lot of players putting the replay system to good use. Taking your feedback and actual use experience into account we have improved a number of things:
There's much less sound clutter in the replays

Replay browser now shows the actual filename, making them easier to sort and distinguish

There's a convenient button that opens up the replay folder
We're also preparing an Export to Video function for the game and would like to hear from you. What options would you like to have? What interface or playback functions would be needed? Let us know so we can make a better tool!
What is New and Important in Alpha 8 of Door Kickers:
——————————————————————————–
Features:
- Shield trooper class
- Snipers (off map asset available in select missions)
- Windows
- Troopers gain XP and advance in rank (though nothing to do with that, yet!)
- Better enemy AI + pathfinding
- Added "open replays folder" option + replays file name
- Improvements on trooper control
Fixes:
- Trooper statistics are no longer updated after watching a replay
- Less sounds overlapping in replays
- Stealth Class no longer kicks doors
- Silenced weapons are no longer heard through walls
- Flashbang target no longer resets to default when setting a gocode
- Fixed a bug where a dead trooper would not be replaced
- Fixed a bug where completing HostageRescue on a mission with more than 1 rescue zone would not end mission
- Fixed playing "Aborting" sound after shotgun-breaching a locked door
- Fixed a couple of crashes, tweaked some stuff and in general improved the game in too many ways to mention here.
Enjoy the game, and like always, don't forget to hit the feedback button

Your DevTeam @ KillHouse Games
Read More
PCGamer nominates us as one of the best strategy games of 2014.
Must live up to the hype now

http://www.pcgamer.com/2014/01/04/the-best-pc-games-of-2014/12

Read More
Hello, friends!
2013 has been a great year! From the start of our crowdfunding back in March we've seen a huge wave of support and enthusiasm which we truly didn't expect. Whether you bought the game, voted for us on Steam Greenlight or just pressed "Like" on a YouTube video, we want to thank you all, without you we wouldn't have made it this far!
We struggled with many difficulties, met and surpassed many obstacles, but we're still here to tell the tale. We took Door Kickers from an idea to a real game that people have lots of fun with. We reached our target budget for Door Kickers and even surpassed it – this means we will be able to deliver you a better game next year.
More important than this, you helped build a community around Door Kickers, which is something many "triple A" games never manage to do.
We have so many new features incoming we would fill an entire blog post about them, but we won't spoil the surprise just yet. Thanks to you, we now definitely have Multiplayer and Coop added on the to-do list. How and when, thats still to be decided.
So here's to 2014 and making the best tactical game there is! Tell your friends, keep spreading the word and continue being the great supporters you have been up until now, and together we'll get there

And to show you just how far we've come, we'll just show you a screenshot from our beginnings:
To this:
Happy New Year!
Your Dev Team @ KillHouse Games
Read More

Ho ho ho, kick the door for Santa Claus!
Happy Holidays, everyone! But what would vacation be without a new build of Door Kickers? Alpha 7 is out! And with it, your greatest missions can now be immortalized forever - replays are in.
Does the game look different? New trooper models! New animations! Smoother and more natural movement. And now that we have the system in place, you can expect more detail to be added to the characters, and new animations are waiting their turn to be added. For now, you can truly kick the door

Back to the replay system, a few things to note:
replays are saved and stored in Documents\KillHouseGames\DoorKickers\replays
you can share the replay files with anyone – send them the file
the last replay is kept; if you want to safeguard a particular cool one manually press the View/Save button at mission end screen
But let's test this into practice

Before Santa comes, send us a (successful) replay file for Level 43 – A Question of Time. Just mail the .rpl file to replaycontest@inthekillhouse.com.
We'll centralize them, share them with the public – and the one we like best will win one of the fancy trooper portraits.
Speaking of which, have you seen the new trooper portraits? Convenient store link http://inthekillhouse.com/buy/ <wink wink>
What is New and Important in Alpha 7 of Door Kickers:
————————————————————————————————————–
Features:
- Replays!
- Major improvement to enemy AI. They will seek cover. They will move around. Even we can't predict what their doing.
- New models and animations for troopers/enemies (replaced old ones entirely)
- Added "Delete" option to final waypoint: deletes path up to the previous waypoint or the entire path otherwise
- Added personalized trooper portraits for the Stuff of Legends price tier
- Improvements to the random mission generator
- Various gameplay/control/graphics improvements
- Modding / Structure changes: Can use secondary weapons for beaching (modding request)
Fixes:
- Moved game files on Linux from ~home/DoorKickers to ~home/.local/share/DoorKicker
- Game should run smoother on older hardware
- Fixed a crash from 0.0.60
- Fixed accuracy being incorrectly calculated for shotguns
- Fixed a bug where troopers' names were not visible
Enjoy the game, and like always, don't forget to hit the feedback button


Your DevTeam @ KillHouse Games
Read More
If you're visting I/ITSEC 2013 in Florida, don't forget to drop by the Door Kickers corner. John of Blackfoot Studios is there on site!
You may also want to check out Door Kickers running on an iPad:
Read More
Hurry up!
Read More

Hello, Door Kickers!
We took a little jump ahead in time and here's Alpha 6. Shotguns inside. And suppressed SMGs. Need we say more? Download, as usual, using the link you first received during purchase or just use your Steam key.
As we were saying above, with Alpha 6 you have the option to run 2 new trooper classes - the Breacher and the Stealth trooper. Fear not, the Stealth has no fancy cloaking devices, just a suppressed weapon that can open a silent and deadly path through the level. Warning: stopping power is not always on the suppressed SMGs side

The Breacher class, on the other hand, is all about blasting your way. Doors, enemies, they all come down, if you pattern your shots correctly. Handy for opening locks when time is short, but not really good for long range accurate shots.
With Alpha 6 we're also taking the first step towards a real Mission Editor. Give it a try. Expect walls drawing – true walls creation – not so far in the future.
There's also a bunch of tweaks that happen regarding aiming speed and the way troopers prosecute targets, especially after passing doors and obstacles. They're still deadly, but a little more realistic so. We advise you to rely on handguns when expecting encounters at close range, but the truth is we're not designing another Rock-Scissor-Paper game. So tell us how it works for you. Write back.
Or even better, come over to the forums and join the discussion. Vote on features. Win contests. It's a lot of fun.
What is New and Important in Alpha 6 of Door Kickers:
——————————————————————————————
Features:
- Breacher class and Shotguns added
- Shotgun breaching now possible – replaces Mechanical breaching where appropriate
- Stealth class and Suppressed firearms added
- Lockpicking. Beware – can be heard by enemies at short range.
- Something approaching a real Mission Editor
- 3 new pistols
- 7 new Semi-Auto/Auto weapons
- 3 shotguns
- 4 new single mission maps
- 2 new random maps
- Improvements to old maps
- Improved the random mission generator
- Improved enemy AI
- New enemy AI: Sawn Off shotgunner. Yeah, watch out for him.
- Troopers now holster the current weapon while operating devices (defusing bombs, lockpicking etc.)
- Smoother path drawing around corners
- Enemy Stun/reload icons are no longer visible in fog of war
- Tooltips are now flipped when cut-off by the edge of the map
- Improved visual effects (debris, burn marks, muzzle flash lights etc.)
Modding / Structure changes:
- Simplified new map creation; Background Entity no longer needed, texture directly referenced in mission file
- Changed location of single mission and RMG repositories
- Differentiated Speed Reload vs Tactical Reload times for weapons
Fixes:
- Fixed flashbang trajectory showing different path that the actual one
- Can no longer operate devices from behind walls/doors, you cheaters.
- You must now have LOS with an object in order to be able to interact with it
- Fixed sometimes losing rclick orientation tracking
- Fixed a bug where the path would not be highlighter while dragging it
Enjoy the game, and like always, don't forget to hit the feedback button

 Your DevTeam @ KillHouse Games
Read More