Read more about it: http://www.rockpapershotgun.com/2014/12/03/the-bestest-best-tactics-of-2014-door-kickers/

Door Kickers is a smashing top-down tactical masterclass, with enough missions to shake a nightstick at, randomised enemy placements to add further variety, and a bundled level editor allows devious designers to create their own maps and missions…Door Kickers is a complete package of planning, panicking and policing.
Read More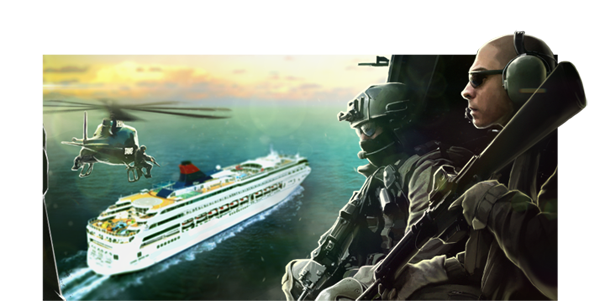 Just when you thought you absolutely need that game that's on sale, here's some new stuff for your Door Kickers. A LOT of fixes, but a new campaign too. Don't worry, its a short one, or so it seems at first sight.
It shouldn't be too hard to finish it, right? Well, then … the first person to send us a screenshot with the "Terror at Sea" Campaign Victory screen, in Iron Man mode, wins a trooper portrait and a limited run Door Kickers T-Shirt. Mail the screenshot to calicojack@inthekillhouse.com.
Now for the actual patch briefing:
How to get it: Steam version automatically updates. The DRM-free builds will get updated installers in no more than a day, available from your place of purchase. Let us know if you need help.
————————————————————————————————————–
New Features:
- New campaign: Terror at Sea.
- 7 new weapons: 2 pistols, 4 long guns, 1 shotgun. You might find some new favorites here.
- Can now compare stats for weapons/armor/shields with the ones currently equipped.
- Campaign missions can be replayed as long as you don't play the next mission in line.
- Added "Delta" Go Code for all those that plan ahead.
- Two new ambient music tracks.
- Sniper: use TAB key for cycling between visible enemies.
- Added a "keep previous plan" checkbox in deploy screen.
- Replaced "switch to primary/secondary" waypoint action with a single switch-weapons waypoint. This will make planning ahead easier.
- Added campaign restart button.
- Added "how to play" video for Snipers.
- Red screen border when HUD is minimized and game is paused.
- Game will auto-restart when changing active mods or window resolution.
- When a flashbang waypoint is set on a door that gets opened by an AI, that waypoint is cancelled.
- Trooper no longer stops when given a direct "Reload" command. He stops at reload waypoints though.
- In-game Mods menu now has filters to help you browse more efficiently.
Fixes:
- Campaigns sometimes not finishing.
- Bug where trooper would go inside a door after lockpicking it.
- Breaching charge waypoints disabling themselves.
- Bug where trooper would kick doors while looking the opposite way.
- Deploying on maps with no deploy zones is done with the current equipment, instead of the default one.
- Can no longer interact with bystanders.
- Reload commands cancelling orientation commands.
- Broken sound/crashes for some Creative sound cards (replaced OpenAL with OpenAL Soft).
- Bolt cutters no longer show up for for Breachers when they don't have it equipped.
- Broken backgrounds for "no intel" maps.
- Some replays were impossible to export to video.
- Several bugs related to maps (impossible challenges, impossible to arrest enemies etc.).
- The random killhouse generator will generate *at least* a room.
- You no longer need to retrieve ALL dope items to get three stars.
- Increased timeout values when connecting to Steam Workshop.\
- Fixed enemies destroying dope even when stunned.
- Tooltips now show key shortcuts (if available).
- Out-of-screen indicators not correctly aligned for certain game resolutions.
- A bug related to restoring a plan that had hold/move waypoints.
- Enemies not patrolling on paths on floors other than the starting one.
- Linux/OSX not detecting conflicts between mods.
- Removed SHIFT=Right Click in OSX (would interact badly with path-lock and Steam overlay).
Have fun, keep eyes peeled for new game content coming out this December

Read More
In the following months we will be releasing two new updates!
Besides fixing current issues and improving things based on your suggestions, we will also be adding some new content.
If you have anything you'd like to see fixed/improved/implemented, we've opened a suggestions thread here where you can speak your mind.
- The first update should come no later than November 25. It will bring a new campaign, new items and many improvements/clarifications to existing features.
- The second update will be released mid-December. Expect new content from this one as well.
Expect major improvements to the in-game editor and overall modding capability as well, though it's unclear whether these will be in the first or the second update.
Lock'n load,
KillHouse Games
Read More
Final game:
Rock, Paper, Shotgun: "If you like your puzzles pausable and plausable, your firefights fierce and your tactical options abundant, this is sure to be one of the best things you buy this year."
PC Gamer: "Door Kickers is a game about cops kicking down doors, and these doors are a lot of fun to kick down. It is also very hard, and I love it for that."
Giant Bomb video review: "I like this game a lot, it's really fun"
de.IGN: "If you want to play a tactical shooter this year…then now you have found your match."
ShouldYouPlayThisGame: "If you are looking for a long lasting tactical game where you can control everything about it, Door Kickers is worth buying."
es.IGN: "Door Kickers is an outstanding title in all and every respect"
Alpha/Beta:
Nerd³ The Alpha Detective Video Preview
Honest Game Reviews Q&A with us
PCGamesN: "Verdict: Buy"
Overlord Gaming reviews Alpha8
Not exactly a review, but pretty damn cool!
Total Biscuit, The Cynical Brit Video Preview 
Indie Statik: "It's probably the best man-shootery game I've played in years"
PCGamer: "If you're a fan of the SWAT games, Rainbow Six, Frozen Synapse … then you've probably got Door Kickers pencilled in your diary, perhaps even accompanied by a couple of exclamation marks"
Read More
Hello people,
Based on your feedback/reports, here's patch #2. If everything goes right after this one, we'll be taking our time to release a bigger update, stay posted for news!
This patch will first be available on Steam, while on other stores it could take up to a day.
Game version 1.0.2
Features:
- You can now move arrested enemies and secured hostages between map floors.
- Increased maximum path length.
- Stars from random maps are now usable.
Fixes:
- Some Steam Achievements related to campaign not working as intended (e.g. Hardcore).
- Crash when changing map floors with a Stealth trooper deployed.
- Exporting replay to video resulting in videos without sound.
- Crash/bug related to older mods.
- Some random generator maps having misaligned doors/objects.
- Missing descriptions for Tazer/Shields.
- Removed single-plan challenges for multi-storey maps.
- The stealth "Fire" button also shows up for suppressed pistols.
- Fixed random generator not working when manually editing the seed with certain values.
- Fixed an issue (one of many) with Creative X-FI sound cards that could lead to a crash.
- MacOSX: fixed black borders on some objects.
- Linux: fixed freeze when clicking URL buttons.
Read More
We issued a patch that fixes some small annoyances and bugs, based on user feedback. If you run into bugs/crashes or would like to share any other kind of feedback, make sure to let us know by email – devteam (at) inthekillhouse (dot) com
Depending on where you purchased the game from, the patch may not be available until Monday.
Features:
- Colored paths option.
Fixes:
- Fixed two crashes.
- If you choose a resolution that is not supported by your monitor, the game will now revert to the default one, instead of not starting anymore.
- Campaign sometimes not finishing even though all conditions have been completed.
- Campaign rewards not being calculated correctly.
- Effects bugs when switching between map storeys.
- Explored areas are no longer reset when switching between storeys.
- "Bored" sounds are now played MUCH less often than before.
- Hidden camera controls visible from other floors in multi-floor levels.
- Removed an Executioner from a mission with no hostages.
- Fixed some silenced weapons (HK45-SD, P226-SD, HK416-SD) not fully working as intended.
- Added some missing weapon descriptions
- Corrected missing sounds for HK416D10SD.
- Various map bugs.
Read More
Door Kickers' journey is now complete!
It's been one year since we've entered Early Access on Steam, one and a half since we began crowdfunding. One and a half years of constant updates, great feedback from the players and two-way communication with you guys.
And we've taken the process to completion – Door Kickers moves on from Early Access.
For those that actually play each version, what's new? The Campaign is IN. You have 3 campaigns now, with more to come! We've also changed the way Single Missions count now – troopers deaths are no longer saved in those. Think of Single Missions as your proving ground, where you try to beat your own performance, and campaigns as your real job – do the objectives and keep the troopers alive. Can you handle that? Maybe also in Iron Man Mode?
Another new and long in-coming feature are multi-layer maps. You can go up and down, exploring some new and old locations in a new way.
There's also a new scenario type – Dope Raid – which tasks you not only with securing the suspects, but also capturing evidence before it gets trashed. And it will get trashed, unless you move swift and to the point.
And no, you cannot shoot everyone.
One last thing… this vesion will reset all your stats and mission completion. So why are you still reading this, get back to 3-staring everything!
What else is New or Changed since last version of Door Kickers:
————————————————————————————————————–
New Features:
- Random killhouse generator + over 90 new random house layouts.
- Over 50 new maps (in campaign, single and random combined).
- New door types: grating doors / padlocked doors.
- New item: Bolt Cutter. Useful for cutting down padlocks.
- New item: Breaching Kit
- Silenced handguns. You asked for them, you got them.
- Can copy/paste/default equipment for each class.
- Improved loading time.
- Enemies start with their weapons lowered, until alerted.
- New music.
- Loading screens with tips&tricks. Can be disabled in options menu.
- Improved path-editing when multiple paths are over-imposed: press SHIFT for locking on a single path.
- Added stretch-to-fit video option (for monitors that are not 16:9).
- Separate volume option for for ambient sounds.
- Improved weapon/trooper stats to better account for their performances.
- Added "reset progress" option.
- Countless other small changes, tweaks and overall improvements.
Fixes:
- Fixed items showing up randomly on random maps. Really.
- Fixed uppercase letters not working on OSX.
- Fixed wall shadows showing up in editor.
- Global statistics are no longer incremented when watching replays.
- Fixed stars not adding after finishing new maps.
- A bug where troopers could go through doors without opening them.
- Right-click menus outside of screen bounds.
- Tazer sometimes not shooting.
- Sniper now kills all enemy types with one shot.
- Sometimes exporting replays to video without sound.
- Ambient sounds playing at full volume no matter of you location in the map.
- Troopers stuck with playing the "use hidden camera" animation all the time.
- Grenade trajectory looking OK but grenade hitting wall.
- Sounds sometimes getting cut while in a very busy scene.
- Removed single plan / single trooper challenges from maps where it couldn't be done.
- Breaching/opening doors when behind walls.
Modding / Structure changes:
- FOV can be modified per weapon/item.
- Challenges are now configurable for each map.
- Can publish new maps to Steam Workshop directly from the editor.
- Equipment.xml is now split into 4 different xmls (items, pistols, rifles, shotguns).
- Can now update mods if you have more than 50 published mods (special dedication to RedPanda for giving us extra work to do).
- Can now modify/add new portraits (data/config/user_list.xml can be modified/added to by using filesystem_mount.xml).
Your DevTeam @ KillHouse Games
Read More
Door Kickers, the innovative SWAT command game that makes you feel smarter when drawing assault plans and getting your troopers killed, now heads out of Early Access.
After 1.5 years of crowdfunding, 1 year of steam early access, 13 released builds, 236 published mods, thousands of feedback emails from customers and an overwhelmingly positive public reaction, the game has matured from technological, gameplay and visual points of view.
Door Kickers comes with over 80 single missions, 5 trooper classes, 45+ pieces of gear and weaponry as well as a campaign mode, random mission generator and integrated mission editor.
Look out for the release, later this month, on October 20!
Journalists and youtubers / streamers looking to get an advance copy of Door Kickers for review purposes please contact us!
Read More