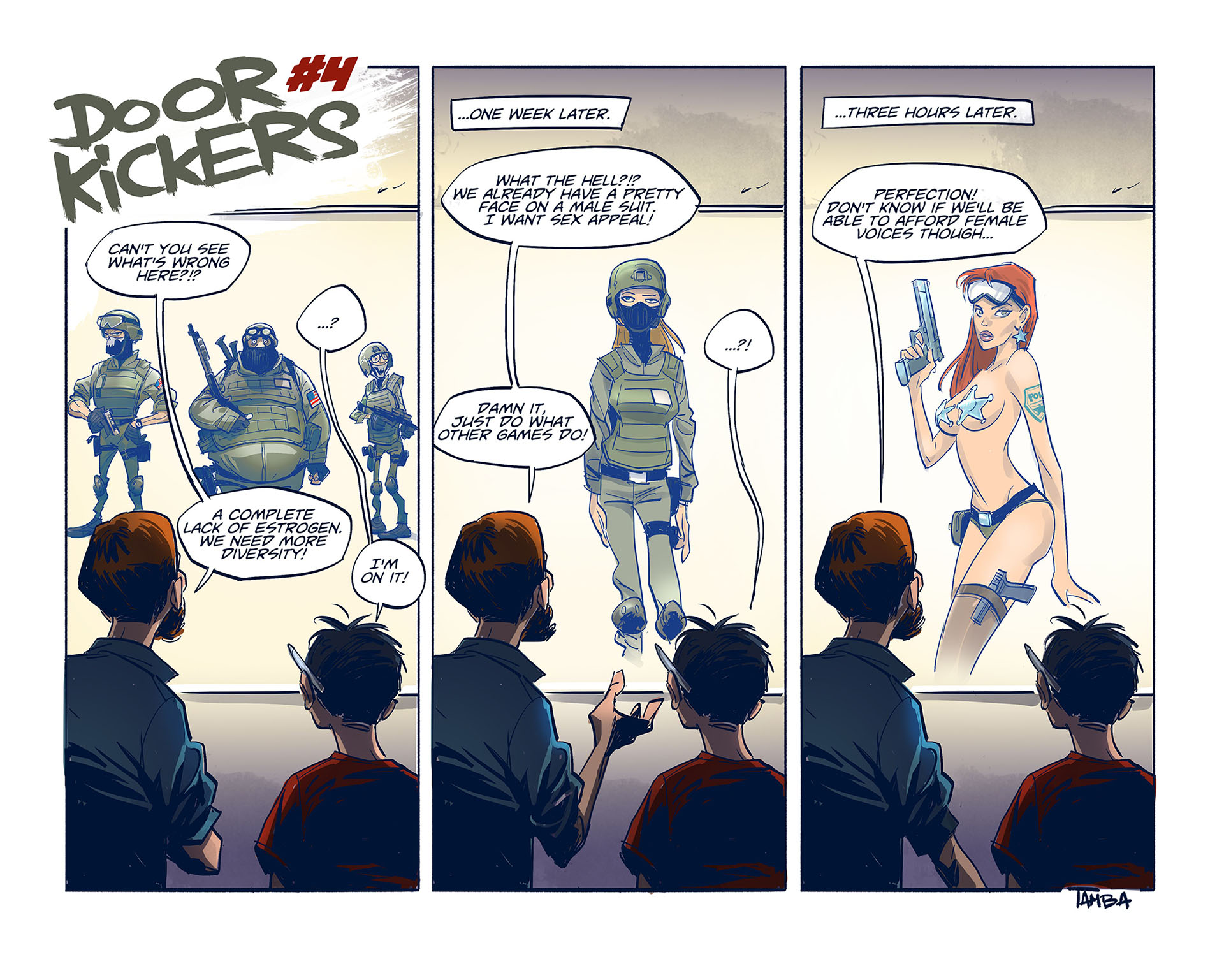 Read More
Door Kickers 2 will not be launching this year anymore.
We had hoped that we would be able to bring it home this winter, but it's clear now that it's not going to happen.
When we started development in early 2016, we felt that one year should be enough to hit Early Access, but things have not gone nearly as smooth as for our first game.
There are many reasons for this: transitioning to 3D engine, debugging the new perspective and improving rendering to keep or increase clarity compared to the 2D engine, having to reboot all art, moving our offices, new additions to our families and adding minor features like destructible walls, to name a few 🙂
We are committed to have Door Kickers 2 as a true sequel – not just a reskin or engine port – and this translates to design improvements and interface changes, code shaking and head scratching.
We have received tons of messages from you guys asking about it and we're sorry to keep you waiting, but don't worry, DK2 is coming and it's going to be awesome! When? Definitely next year 😀
We're shying away from announcing a specific release date, because the actual date is not important. What matters is delivering the best experience possible for you guys, no compromise.
Early Access will only come at the quality and polish level you've come to expect from us. It will showcase the new Door Kickers and keep you occupied for months. As before, once we have the initial version out we will update it roughly once a month.
Our projected initial Early Access Version will include:
Single Missions, playable in Single Player and Cooperative Multiplayer
New unit classes – Ranger Marksman and Ranger Machinegunner, with new abilities such laying down (or receiving) Suppressive Fire
Customizable weapon optics and muzzle attachments
Night missions, darkness, hiding people in it and using Night Vision gear or flashlights to see through it!
Destructible walls and opening new entry points.
Smoother path drawing, Path editing, Waypoint Moving
Improved coordination including grouping troopers, movement in stack and automated Line-Of-Sight-based coordination
Rules of Engagement, Sprinting and other new Tactical Options
And more!
To be clear – until we have these ironed down to our satisfaction, there will be no Early Access version out. And there are many more features on our list that will be added later.
So here's to 2017 and Task Force North launching to you guys and hundreds of hours of fun and engaging tactical gameplay.
Your team @ KillHouse Games
Disclaimer: All plans and designs are subject to change or being superseded by newer and better designs.
Read More
Read More
For more technically inclined people, here are the slides for our GDC & IndieCade talk this year:
Did you know you can make successful games faster, cheaper and more reliable by building your own tech instead of using a third party engine? 
With a small team and no budget, we managed to make 2014's best tactics game (Door Kickers) in a very short time, with a huge amount of content, on 5 platforms. 
Without using any third-party engines or tools. 
Instead of adding tech, we removed tech. We kept removing until there was almost nothing left. Sounds counter-intuitive? Think of it this way: simpler means faster, cheaper and more reliable. 
Learn about the extreme simplicity of the production pipeline and the "unified everything" game engine used for Door Kickers. 
Learn that developing a game can also be done in a very smart and simple way, instead of spending years or $$$$$ on game engines. Learn how to focus on what is important and that finding the simplest solutions is usually the hardest.
Read More
https://www.rockpapershotgun.com/2016/02/19/the-flare-path-dan-dimitrescu-interview/
However awesome his design skills may be, they are no match for his squatting skills.
Read More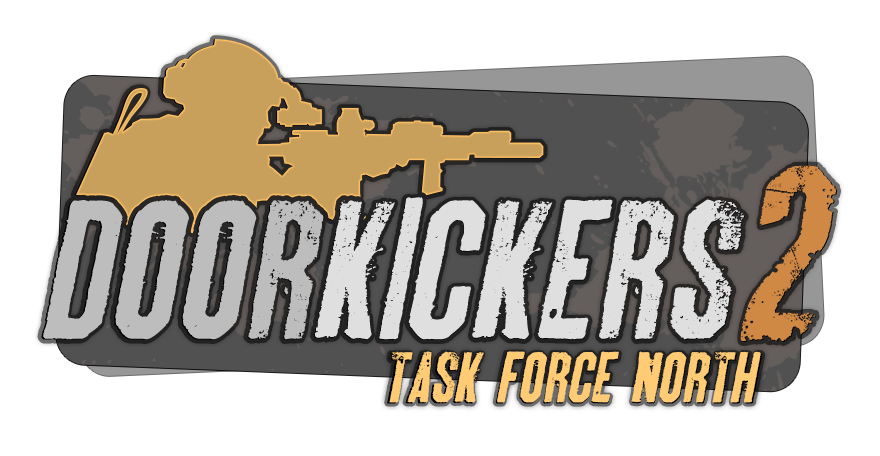 The sequel to the critic and public-acclaimed Door Kickers moves the action to the Middle East and puts the player in control of military Special Operations Teams fighting an elusive Terrorist Network.

Gone are the SWAT shields and tazers, enter the beltfeds and frag grenades. Door Kickers 2 casts the player as leader of the eponymous Task Force, handling units such as the US Rangers and assets like drones to respond to threats, solve crises and hunt the enemy on his own turf.
Once the Tactics Phase starts, things are meatier and deadlier. Extraction and Insertion now become equally critical, but so does telling the bad guys from bystanders and innocents.
They say that great responsibility should actually come with greater power, so players can now take advantage of nighttime, darkness or even good old sneaking to surprise the enemy. New trooper classes, weapons, tools and gadgets open up the tactical options, but one thing does not change: You'll live and you'll die by your tactics.
And then you'll hit Restart and try again.
To help with the challenge, Door Kickers 2 adds Cooperative Multiplayer to the existing mix of Single Player Missions and Campaign. And since you can never have too much content, the game comes with complete modding support, improved mission editor and partial source code access. Yes, we can; it's our own custom built 3D engine. We're cool, crazy, or most likely both.
(Special note for our fans: Adversarial Multiplayer is still in the books but will make the subject of a separate announcement later this year)

Key points to Door Kickers 2 – Task Force North:
Choose which unit to deploy for each mission and adjust your tactics accordingly Surgical Operations or Overwhelming Firepower – anything is possible.
Use Night Vision, Drone reconnaissance and other realistic gadgets
True freeform tactics taken to the next level: Turn off the lights and hide in the dark. Break windows and jump over ledges.
Go fast to the target or slow and methodical. And if you make a mistake, adapt and overcome.
Face new threats such as suicide bombers, booby traps and RPG launchers.
Use new Tactical Abilities. Group your troopers for easier movement.Establish Rules of Engagement – you name it and … we'll talk 🙂
Lots of hush hush stuff we'll announce along the way. And take that literally 😉
Door Kickers 2 is expected to hit Early Access in Q4 2016 on Win/Mac/Linux, with Full Release on PC and handhelds coming later, aka "when they're done". All info and specifications subject to change. For more information keep in touch over at Facebook or Twitter, or drop us an email. We like that.
About Door Kickers: Door Kickers is a game about controlling Special Forces, drawing action plans for them and coordinating them during their tactical intervention. Released in October 2014, it was hailed as "Early Access done right" and currently holds an Overwhelmingly Positive Review Rating on Steam. It has sold over 250.000 units on all platforms combined, offers cross platform save compatibility and was named "Best Tactics Game of 2014" by RockPaperShotgun and "Runner-Up To Strategy Game of The Year 2015" by PocketTactics.
Read More
And as a first time event, it will also be playable on phablets (large screen phones, 5.7+ inches).
Let us know what you think and make sure to message us if you have problems downloading/playing the game on your particular device.
Yes…yes they do…
Read More
Read more about it: http://www.rockpapershotgun.com/2014/12/03/the-bestest-best-tactics-of-2014-door-kickers/

Door Kickers is a smashing top-down tactical masterclass, with enough missions to shake a nightstick at, randomised enemy placements to add further variety, and a bundled level editor allows devious designers to create their own maps and missions…Door Kickers is a complete package of planning, panicking and policing.
Read More
Final game:
Rock, Paper, Shotgun: "If you like your puzzles pausable and plausable, your firefights fierce and your tactical options abundant, this is sure to be one of the best things you buy this year."
PC Gamer: "Door Kickers is a game about cops kicking down doors, and these doors are a lot of fun to kick down. It is also very hard, and I love it for that."
Giant Bomb video review: "I like this game a lot, it's really fun"
de.IGN: "If you want to play a tactical shooter this year…then now you have found your match."
ShouldYouPlayThisGame: "If you are looking for a long lasting tactical game where you can control everything about it, Door Kickers is worth buying."
es.IGN: "Door Kickers is an outstanding title in all and every respect"
Alpha/Beta:
Nerd³ The Alpha Detective Video Preview
Honest Game Reviews Q&A with us
PCGamesN: "Verdict: Buy"
Overlord Gaming reviews Alpha8
Not exactly a review, but pretty damn cool!
Total Biscuit, The Cynical Brit Video Preview 
Indie Statik: "It's probably the best man-shootery game I've played in years"
PCGamer: "If you're a fan of the SWAT games, Rainbow Six, Frozen Synapse … then you've probably got Door Kickers pencilled in your diary, perhaps even accompanied by a couple of exclamation marks"
Read More
-85%
for a week, on our website, iTunes, Google Play and everywhere else
Read More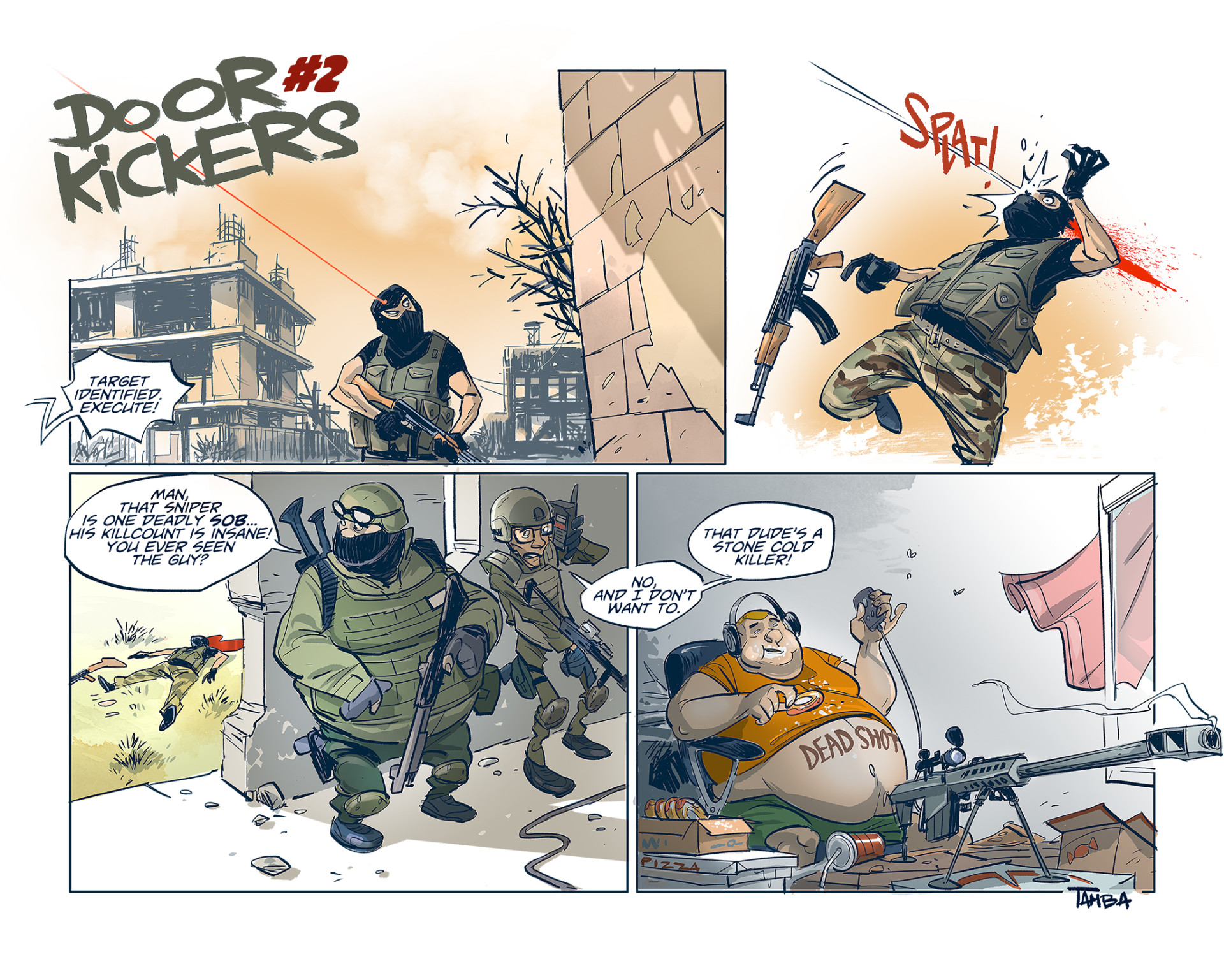 Read More
Door Kickers is now on sale for all available platforms.
If you've been holding back on the iOS, Android or PC version, you may want to check out the lowest prices we ever had:
Our store: http://inthekillhouse.com/buy/
Steam: http://store.steampowered.com/app/248610/
iOS: https://itunes.apple.com/us/app/door-kickers/id975683986?mt=8
Android: https://play.google.com/store/apps/details?id=com.khg.doorkickers

(mentally replace this image with a nice Door Kickers logo with a HUGE 85% off)
Read More