You guys have constantly asked us about the next update. Now, after years of silent and selfless work, we are ready to reveal it – the Door KickerZ is real!!!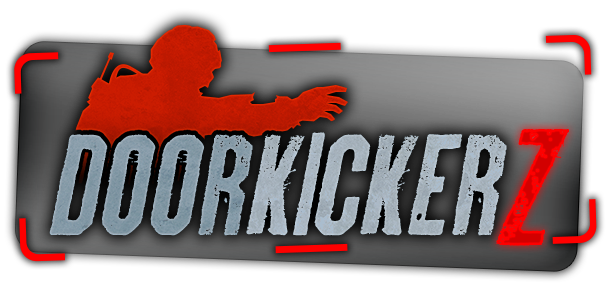 It's been 2 months since the conclusion of the "Terror at Sea" campaign, and a sinister sub-plot comes to light. The police have failed to locate and disarm a deadly nerve agent dispenser hidden in the belly of the Luigi Balauro, and it has contaminated the waters of Nowhere City Harbor.
Now, the fruits of your bad performance come to life – the deadly Zombies attack!
Note: If you have actually disarmed the device during your play of "Terror at Sea", you will be unable to run Door KickerZ. It just wouldn't make any historical sense, would it? We're sorry for any inconvenience. No refunds.
New Features:
4 new enemy types: Basic Zombie, Covert Zombie, Ghillie Zombie and Chalk Outline Zombie

dynamic zombie generation based on realistic simulation of a made up nerve agent

"Are you mad?" confirmation screen when pressing ESC by accident on the Mission Failed Screen.

Bonus: All Zombie requests will be deleted from the forum
To counter the Zombie threat, your troopers receive access to special gear:
6 new weapons including fan favorite Mac-10 and  Armor Piercing Mp9.

Whatever bullshit armor the Juggernauts were wearing.

Door KickerZ is the official sequel to the critically acclaimed and highly successful SWAT command game Door Kickers (with an s). Coming to Win / Mac / PC in mid 2015.
Read More
We've been working hard on the tablet version and things are starting to come together!
Due to the smaller screen size and the fact that your fingers behave differently than a mouse, we had to completely redesign the HUD and many parts of GUI. Some of these we didn't really expect, so unfortunately we're taking more time than anticipated.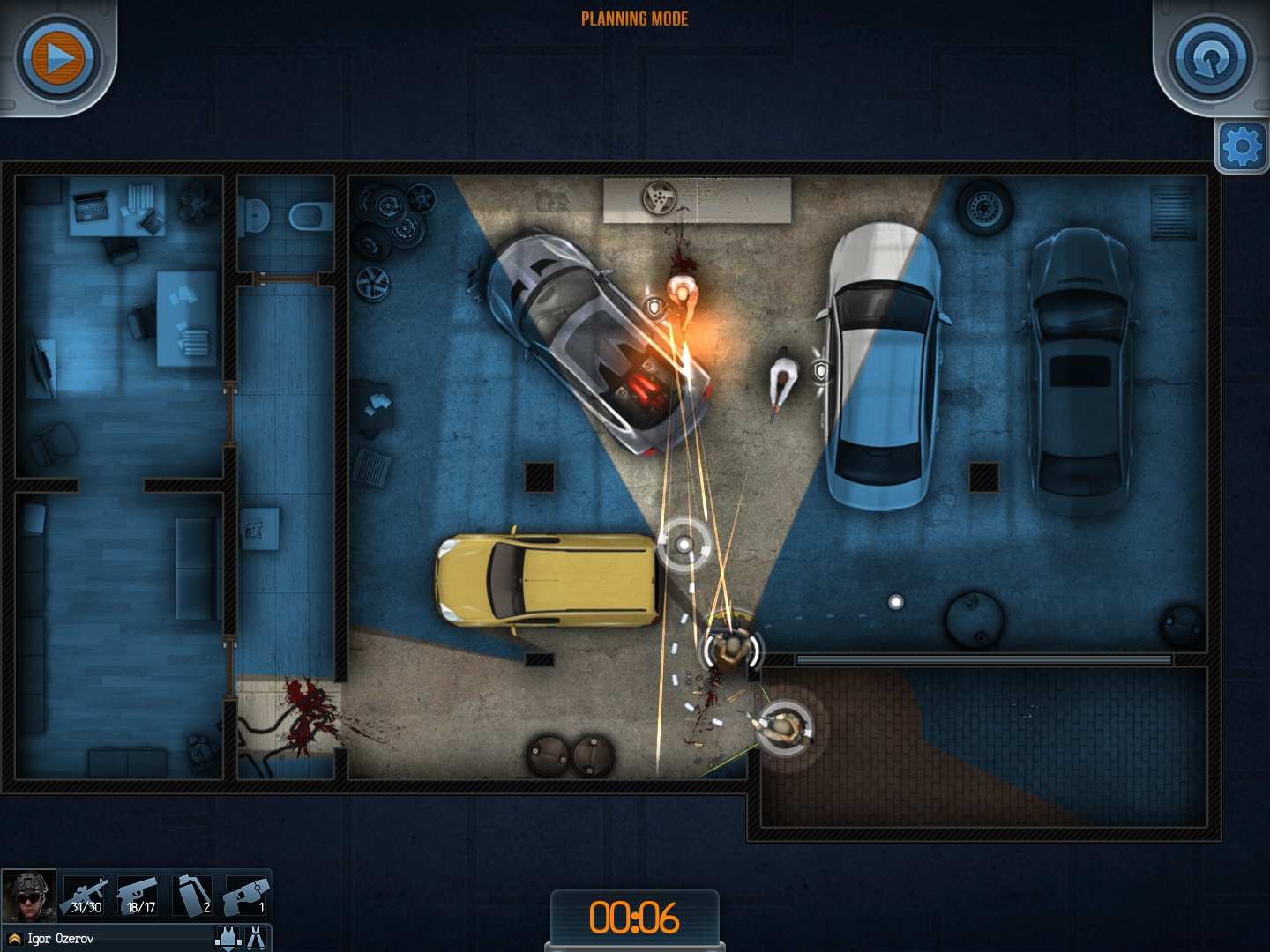 The game will first be released on iOS, with Android coming after that if everything goes according to plan. If you have and iPad 3rd gen and up you should have no problem playing it.
We're currently trying very hard to lower the minimum requirements to an iPad2, but it's tricky due to its very limited memory amount. Even though we've done tons of optimizations, fitting into those memory requirements would require to lower the graphics quality a bit too much, so it's still under discussion.
Trying the game on an iPhone5 made us squint really hard, so a phone version seems doubtful right now. Even though the size of an iPhone6(+) could work, we would still need to remake all in-game menus to be readable, which would take too much time out of our really cool, awesome, incredible and still unannounced future projects.
Since there are a lot of people already playing Door Kickers on Windows touch-laptops (2in1 devices, touchtops or whatever they're called), we'll also add the touch control scheme in our Windows version as well, so that you can enjoy the touch-friendly version on your favorite Windows touchtop!
As for the release date we'll announce it as soon as we know it ourselves, but expect something like 2 months.
Lock'n load,
KillHouse Games
Read More
Read More
It was just about time…
Here is the changelist for the Winter Update (1.0.6):
Features:
- New campaign.
- New scenario type: Robbery in Progress.
- 9 new weapons.
- 2 new single-mission maps.
- 2 new enemy types.
- Added 3 new editor brushes (erase background / white / shadow).
- Added 16 new Steam Achievements (entry-level ones).
- Can now paint floors in the editor + several other editor improvements.
- Added shortcut for stealth Fire button (F).
- New mod: Winter Games (example for implementing weapons with projectiles and custom map music).
- Improved loading speed.
Fixes:
- Replays sometimes getting desynchronized (bug introduced in 1.0.3).
- Saved plan sometimes being deleted.
- Campaign Won screen showing when losing all troopers.
- Troopers sometimes going through doors without triggering any action.
- Crash related to some mods.
- Improvements/tweaking to existing equipment.
- Crash when resizing map to a certain size in editor.
- Game unable to run in full-screen resolution on certain configurations (high-DPI screens).
- Crash related to modding sounds.
- One single-mission map was missing on Linux and Mac.
- Broken Mac OSX scroll for magic mouse and trackpad.
- Re-added Right-Click keyboard shortcut useful for trackpads (now C, instead of Shift).
- Pointmen not being able to switch weapon from tazer to pistol.
- Incorrect reload time stats for cyclic reload weapons (shotguns, revolvers).
- Sniper hud disappearing from multi-storey maps.
- Showing campaign success screen even when losing all missions.
- Crash related to mods and picking locks.
- Crash when enabling and disabling certain mods.
- Enemies not shooting back after recovering from a tazer shock.
- Pre-planning more than 1 breaching charge not working.
- A bug with failing final campaign map, restarting it and still finishing campaign.
- Sometimes campaign would not finish even when all troopers were dead.
- Hostages not always following you when changing floors.
- Trooper switching to primary weapon after detonating a door while pistol was equipped.
Modding:
- Weapons can now shoot with projectiles, check out the two examples in equipment_patch_4.xml (Grenade Launcher and Bow) and the "Winter Games" mod.
- Can now set custom music for a map. Check the "Winter Games" mod for an example.
- Added "ejectShells" option for firearms (revolvers no longer eject shells).
So while you work on finishing up the new stuff, let us know what you'd like to see in the future from Door Kickers (we promise we have something new and awesome cooking for you!).
Lock'n load,
KillHouse Games
PS: Some stores may have delays in updating the game, but don't worry, it's coming!
Read More
Hello, friends!
When this year started, we found ourselves on PC Gamer's list as "one of the best/most promising strategy games of 2014". As it ends, we're Rock Paper Shotgun's "best tactics game of the year".
What's most important, we've delivered to you and got the game out, and we are currently enjoying a steam user rating of Overwhelmingly Positive. It's not uncommon to see happy users with 50+ or even 100+ hours of gaming time, and all this confirms we must be doing something right

The workshop and modding scene are very active, and the release of the improved mission editor makes creating maps from scratch completely possible.
What's next for KillHouse Games? We're obviously not done with Door Kickers and Update 1.06 is almost ready for full release. But even after that, we have new features in mind, new campaigns to write and new threats or tools to throw at you.
Bigger things are also coming. Bringing multiplayer to Door Kickers, porting Door Kickers to other platforms, as you requested, and even moving Door Kickers to other places in the world. Nowhere City is a homely home, but we're wondering how they call their double taps in, say, Russian? And who knows Mp5s better – the Germans or the Brits?
Those of you that follow our interviews also know we do have some plans for Door Kickers 2, and even another project. Decisions and plans are to me made but you're probably going to see more than just Door Kickers stuff from KillHouse Games, next year.
So here's to 2015 and here's to you – our awesome community. You took us from 3 guys with a fun prototype to a solid team with the best tactical game on the market.
So thank you, and have a Happy New Year!
Your Dev Team @ KillHouse Games
Read More
Read more about it: http://www.rockpapershotgun.com/2014/12/03/the-bestest-best-tactics-of-2014-door-kickers/

Door Kickers is a smashing top-down tactical masterclass, with enough missions to shake a nightstick at, randomised enemy placements to add further variety, and a bundled level editor allows devious designers to create their own maps and missions…Door Kickers is a complete package of planning, panicking and policing.
Read More