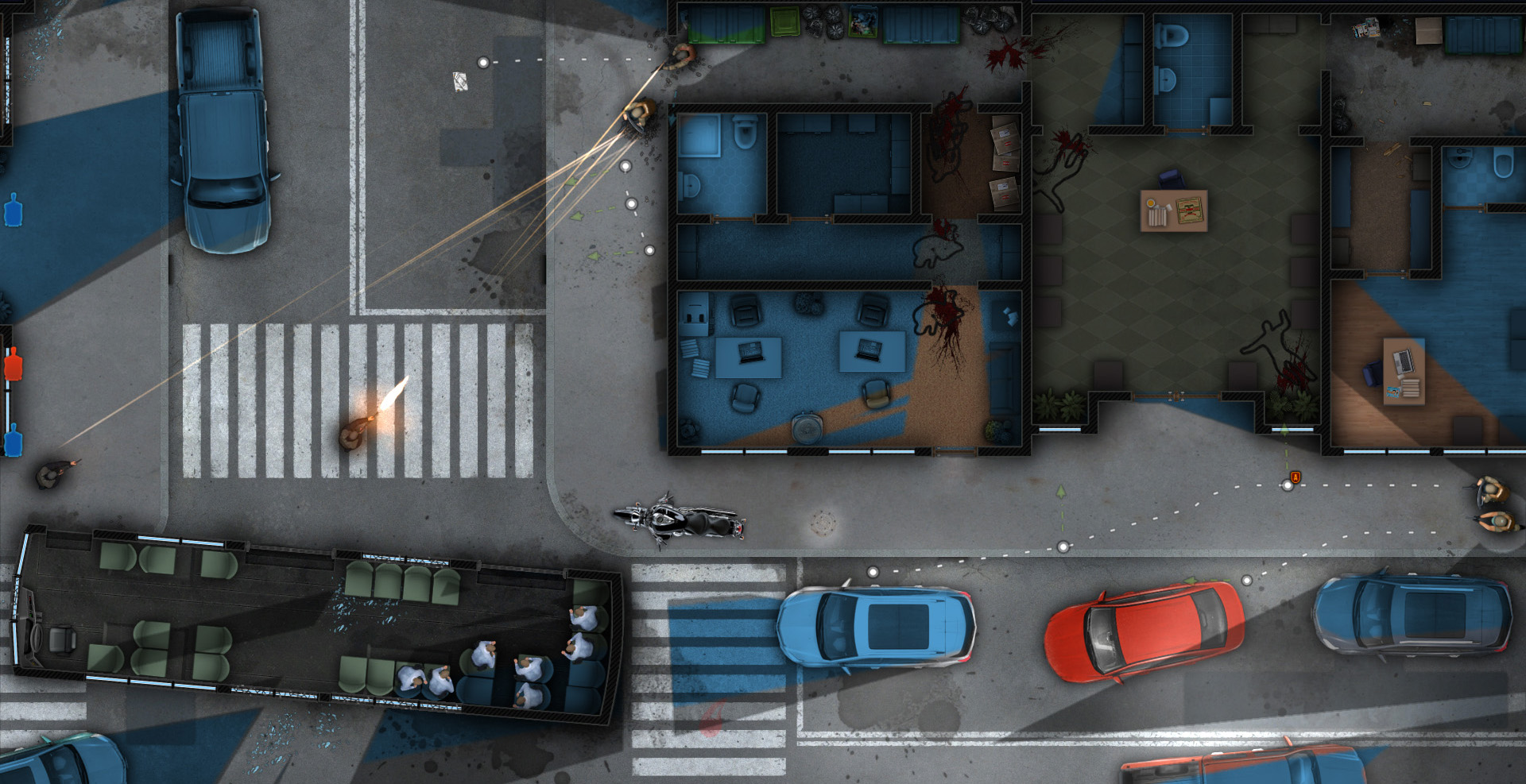 Friends from distant lands…you have been called to answer the threat of the armored bad guy!
Your bullets will bounce. You will scramble at their bursts of automatic fire. You will use clever tactics or you will perish. You will … download Alpha 10 (via the download link you received during purchase, Steam or other stores – which could be late a couple of days).
10 is such a nice number, and counting a little over 1 year since we started releasing these builds, we thought its time to move to Beta?
What does that mean? Nothing to fear! ? Just that from now we're focused on actually finishing features and giving a more complete level of polish to the game! You will see the overall quality ramp up, and also the remaining features being tackled. We still listen to feedback, we still add and change stuff!
To keep you occupied while we do this, we've added Steam Workshop support and an in-game Mod Management interface. This means that you get to see mods and custom maps shown in a centralized location, and its also easier to activate / deactivate mods without editing game files yourself. If you're into modding or map building, head over to http://inthekillhouse.com/steamworkshop to read Pintea's (work in progress) guide on modding.
The moment you start the game you will notice the new Squad Doctrine Tree. Every time a trooper gains a level, you get a Promotion Point. Used that point to give a permanent upgrade to your squad, and all troopers benefit from it. We've opted to have it work this way, as opposed to upgrades on the individual level, since our game is all about the team, and we hate micromanagement. But remember, we're not done with the game yet 🙂
This also means that your squad is now back to level 1. They don't know anything. They'll shoot stuff, but its up to you to teach them advance stuff. Double Taps? Long Range shots? Sure. Headshots? Well, that's not yet implemented 🙁 Soon!
So get them up and running, and make sure to let us know what you think of the current doctrine tree, while we work on V2.
What else is New and Important in Alpha 10 of Door Kickers:
————————————————————————————————————–
Features:
– Bigger maps (zoom/scroll enabled for all maps)
– New scenario type: Protect the VIP
– Three new enemy types (Operator Orville, Juggernaut Emil, Assassins)
– Three new maps
– Improved enemy/SWAT AI
– Export replays to video
– Modding support + in-game mods menu
– Steam Workshop support
– Can resume a game anytime during a replay
– Added enemy ghosts for last visible location
Other:
– Added maxFPS and vertical-sync in options.xml
– Improved FPS / loading time
– Game size reduced significantly (due to compressed textures)
– Can now hide the HUD while playing; not yet in replay mode
– Multiple graphics improvements
– rebalanced armor types
– rebalanced 9mm and .40 caliber vs .45 caliber pistols
– New sounds
– game now loads .dds files in addition to .tga and .png
– new door types added – elevator and bus doors
Fixes:
– Can no longer be heard through walls when picking locks
– Fixed a couple of replay-desync bugs
– Fixed some ambient sounds that were too loud
(plus bugs, crashes, etc)
Modding / Structure changes:
– changed location of single mission and RMG repositories
– the distance at which shots are heard is now specific to each weapon
– the noise distances for stealthily opening a door vs kicking it down are now configured separately.
Have fun, wear your plates, and don't forget to hit the feedback button 🙂
Your DevTeam @ KillHouse Games