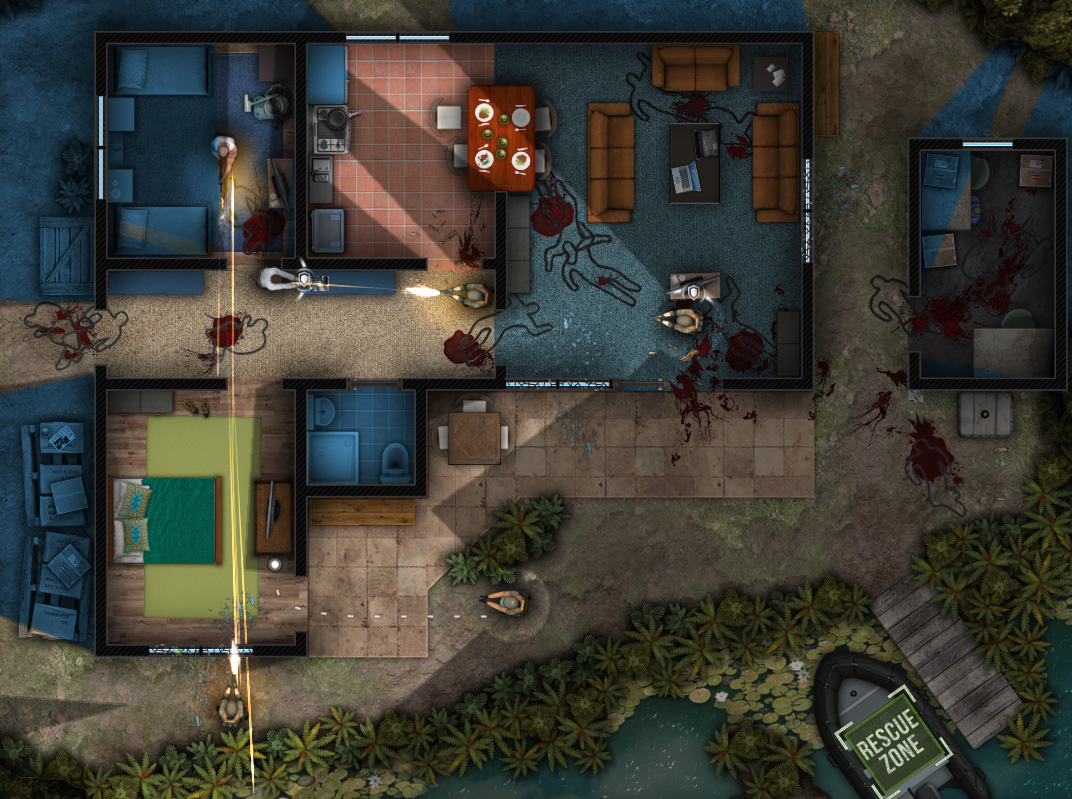 Hello again!
Alpha 9 is upon us! But fear not, we've got our body armor on! Get it 😉 ?
Download, as usual, via the download link you received during purchase. Or just use your steam key you got from us. Yes, we still get emails from people that didn't know a steam key got lost in their spam filter, nothing to be ashamed of.
We've had so much good stuff built lately that we just had to let it out. But there are two main changes you will see. The first one, which affects the entire game, is that your troopers now wear body armor. Really, check it out in the equip menu – you even get a few choices on armor type!
SWAT being SWAT and rules being rules, you always wear your rifle plates, front and back. Take a round of AK47 in the plate, no problem, if you're that lucky. But if you want more protection, you can get that, and pay the price in encumbrance. Just remember, no armor is impenetrable, nor it offer 100% protection.
Speaking of protection, shields are a much more complex business right now, with 5 models available for your use. The first 3 are handy against the pistol caliber threats, Mac10 bad guys and so, but Kalashnikovs pierce right through. Choose the latter shields for protection against Rifle Threats, but don't expect the same amount of coverage as weight would just be too much!
We still have the armor a little too powerful, with blunt trauma from non-penetrating shots not factored in. Will be fixed.
The 2nd main change to the game is we've put some Less Lethal stuff in. What do you get:
Stinger grenades – use them to scatter people but do it with caution as accidents do happen!
Tazers – Equip them and you can stun bad guys or runaway suspects. Tazing gives you a couple of seconds to handcuff the subject, its not a fire and forget option.
Arrest Warrant mode! A new scenario type, look for the old distinguished gentleman wearing a a suit. And once you find him, arrest him. Pretty simple right? If you can catch him…
Soon you'll have more Less Lethal stuff as well as bad guys surrendering when overpowered, but for now we only have the VIP doing so.
What is New and Important in Alpha 9 of Door Kickers:
——————————————————————————————–
Features:
– New scenario type: Arrest Warrant.
– Body Armor added to the game. Select it from the inventory menu.
– Stinger Less-Lethal grenades added
– Tazer Less Lethal gun
– New shield models + improved shield mechanics
– 1/2 playback speed option for viewing replays
– New trooper skins + better animations
– Graphics improvements
– Improvements to enemy/swat AI
Fixes:
– Troopers now properly remember the weapon they had in hand before breaching a door.
– Fixed some issues with snipers
– Fixed unable to breach with shotgun as secondary weapon when activating potential waypoint
– Trooper stats are no longer updated and XP is no longer reset when viewing replays
– Fixed invisible walls on very large screen resolutions
– Fixed immortal troopers
– Sniper bullets ignore cover now
Have fun, wear your plates, and don't forget to hit the feedback button 🙂
Your DevTeam @ KillHouse Games